In order to conduct in-depth research on the top plastic recycling trends and start-ups, StartUS Insights, a research institution focused on the commercial progress of global technology start-ups, analyzed a sample of 986 global start-ups and scale-up companies, and outlined emerging technologies and start-ups in the plastic recycling industry to improve strategic decision-making.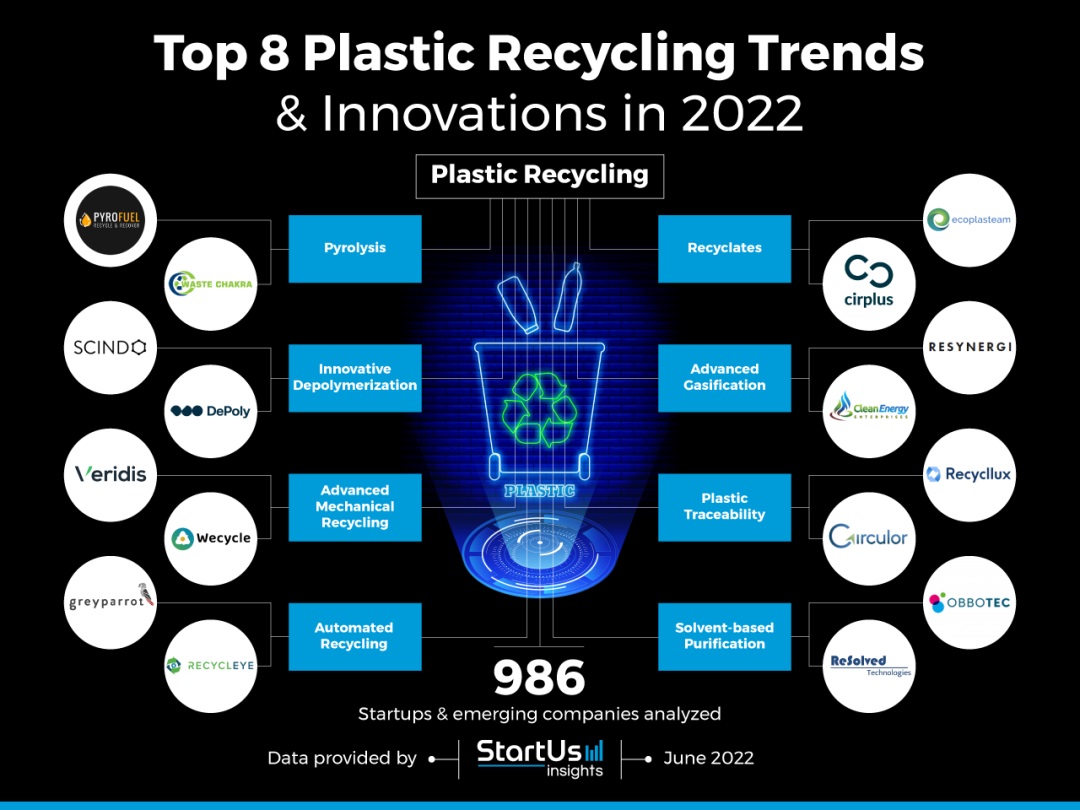 A tree diagram reveals 8 major plastic recycling trends
Chemical recycling technologies such as pyrolysis, chemical depolymerization, gasification, and solvent-based purification (SBP) are having a huge impact on plastic recycling. Advanced mechanical recycling systems are using artificial intelligence and material quality grading solutions to improve recycling facilities. In addition, plastic recycling start-ups are using blockchain and geospatial intelligence to track waste plastic and improve plastic reverse logistics. In turn, these solutions have significantly increased the material recovery rate of recycling plants.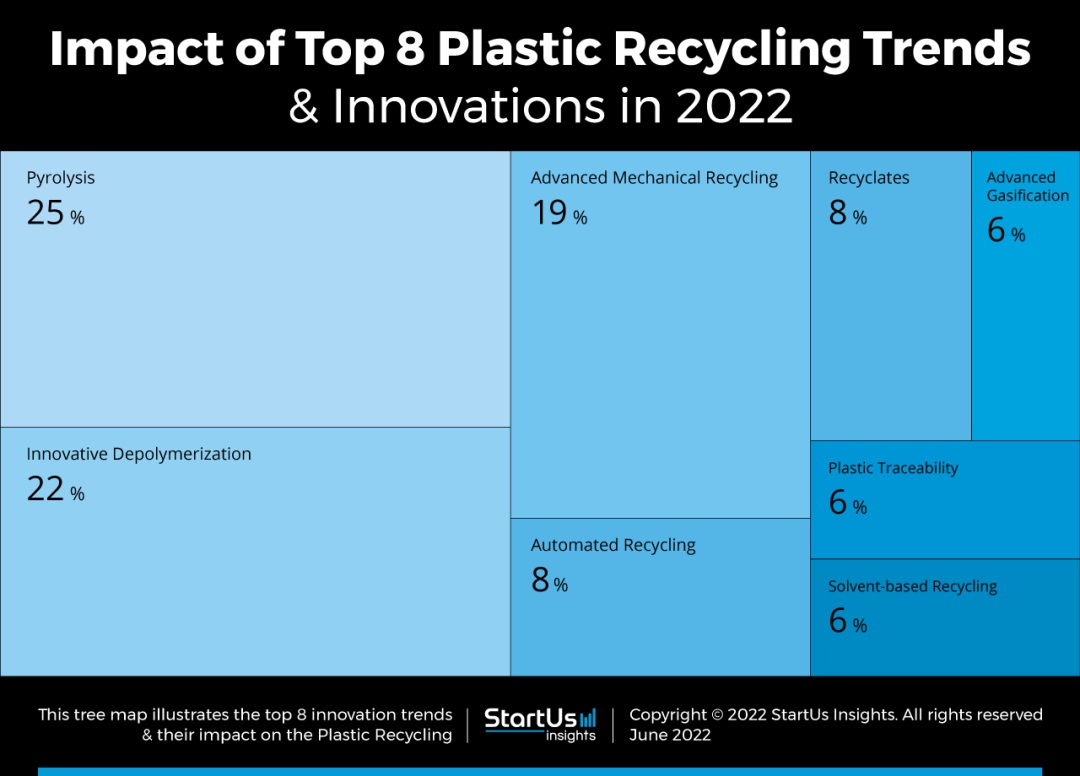 Pyrolysis

Pyrolysis of hydrocarbon waste plastics produces pyrolysis oil under anaerobic conditions. Pyrolysis plants further process to produce fuels similar to petrol or diesel. Advances in pyrolysis technology such as fast and ultra-fast pyrolysis allow plastic recycling companies to recover large volumes of waste stream in shorter times. Plastic recycling start-ups have also developed solutions to reduce energy consumption and emissions of pyrolysis plants for sustainable operations. In addition, the pyrolysis fuel replaces the diesel in internal combustion engines. This provides additional revenue sources for recycling facilities, supporting the transition to a low carbon economy.
Pyrofuel develops a prototype of plastic pyrolysis
Pyrofuel is a start-up based in Jordan that offers a prototype of plastic pyrolysis. The plastic fuel system of this start-up uses crushed plastic particles such as polyethylene, polypropylene, and polystyrene. The pyrolysis conditions are achieved by eliminating oxygen in the system using a vacuum pump, then heating the reactor to 400 degrees Celsius. The system uses zeolite catalysts to enhance the cracking and restructuring of long-chain plastic vapors. The vapor in the diesel fuel fraction is then condensed in the condensation tube to produce diesel fuel.
Waste Chakra builds a decentralized plastic pyrolysis machine
Waste Chakra is an Indian start-up that produces decentralized plastic pyrolysis machines. The start-up's mobile plastic recycling machine can handle plastics of various sizes in a small space, with just 1 kg of plastic as the minimum requirement to start the recycling process. In addition, the machine also has a sustainable operating solar mode. This enables small and medium-sized recycling companies to utilize pyrolysis without significant capital investment.